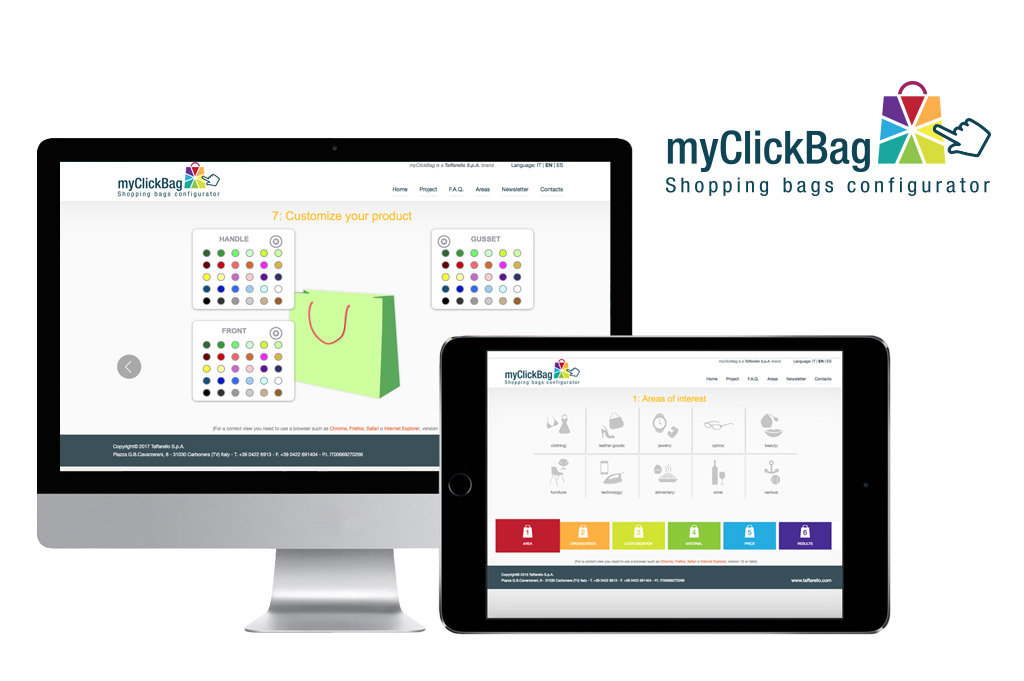 Your carrier bag with a click
What's the perfect carrier bag for you?
Sometimes is hard to find among the different models, the carrier bag that perfectly fits for you.
We've developed new interactive instruments that will help you to find discover your own carrier bag. To find the perfect model, to customise it and require personalised information has never been so easy!
What's the perfect carrier bag for you?
This is the question we've often asked ourselves and for this reason we asked the company that created our website, to develop together with us a tool which can guide the client and ourselves in the research of ideal product for them.
This is how myClickBag was brought to life; it's not only just a game but a real on-line configurator that with only a few simple steps will be able to suggest the best proposals selecting between all our numerous products the ones which will meet all the requirements of the user.
The configurator will normally suggest two alternatives: it could be that you are looking for a stock plain product or that you simply need a bag personalised with your own logo.
And when the imagination is not enough to visualise your own product, myClickBag allows you to select the colours of the bag and the handle as well as uploading an image or a logo showing a 3D simulation of your own shopper.
The next step is simply sending your own configuration with a click to receive a personalised guidance.
MyClickBag is optimised for computer desktop, mobile and tablets.